Herald Express South Devon Business Awards
South Devon College were awarded Silver in the Excellence in Customer Service category and Bronze in the Employer of the Year category at this 2018 Herald Express South Devon Business Awards.
---
TEF Gold
University Centre South Devon (UCSD) has been awarded the highest rating of 'Gold' under the Teaching Excellence Framework (TEF), a system for recognising excellent teaching and learning in higher education.
---
Higher Education QAA Review
The QAA conducted a review of our Higher Education in December 2014 awarding the College 2 commendations, and recognising 8 areas of particularly good practice. They judged both the quality and the enhancement of student learning opportunities to be exemplary.
---
Investors In People Platinum
SouthDevon College received the prestigious Investors in People (IIP) Platinum accreditation, the highest level awarded by the people management standard. South Devon College is the only College in England to have achieved Platinum status and
this prominent distinction confirms the College's status as not just a leading Further Education College, but also as a top employer in the country, as it joins the top 7% of accredited organisations across the UK.
---
European Union Social Fund Re-engagement Project 
South Devon College worked in partnership with PETROC on an ESF funded NEET re-engagement project in 2014-15. The successful partnership helped engage young 16-18 year olds across Torbay
and South Devon in innovative ways. The project over-exceeded its recruits and achieved 97% in both positive achievements and progressions.
---

TES Employer Engagement Award
South Devon College has a long and successful track record of developing curricula in partnership with local employers. In South Devon and Torbay, there is a growing hi-tech sector, with a cluster of businesses employing more than 1,000 people. South Devon College's hi-tech and digital department is seen as a hub of innovation, supporting businesses with a host of new ideas and developments.
---
Winner of Food and Drink category for sustainability initiative 
South Devon College was crowned winner of the 'Food and Drink' Category at the annual national Green Gown Awards 2016 for their innovative project 'Samphire- What a Pickle'. Established in 2004, the Green Gown Awards recognise the exceptional
sustainability initiatives being undertaken by universities, colleges and the learning and skills sectors across the UK and Ireland as the education sector leads a path to efficiency, employability and better quality of life for us all.
---
Highly Commended in Skills and Learning 
This commendation recognised the exceptional work of the College's South West Energy Centre in opening new market opportunities for renewable technologies and promoting sustainability throughout the local area. The award was presented at the Green Gown Awards 2015.
---
AAT Training Provider of the Year 2019
In May 2019, South Devon College was highlighted as the training provider of the year for delivering AAT (Accounting) qualifications. The Awards Ceremony celebrates the outstanding contributions of AAT training providers and students around the world.
Recognised by leading employers in the UK and around the world, AAT is the perfect qualification whether you're just starting a career in finance, already working in industry or are looking to retrain in a new career.
---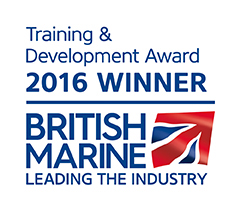 British Marine Training and Development Award 2016 
Dart Marine Academy, based at Noss-On-Dart in Kingswear, won the award for Training and Development at the British Marine Awards Ceremony in London in March 2016. The award recognises the Marine Academy as a stimulating and supportive workplace with well-motivated, well-trained, ambitious and developed staff.
---
Investor in Careers accreditation 
The College received the accreditation as a result of their exemplary careers education, information, advice and guidance. The quality standard was awarded following rigorous assessment.
The Investor in Careers quality standard is a framework that assesses the management of careers education and support. This relates directly to students' awareness of career opportunities, as well as supporting them in achieving their goals and encouraging their career aspirations.
---
Matrix accredited 
South Devon College is fully accredited for the effective delivery of impartial careers information, advice and guidance for applicants and current students.
---
FE Choices latest comparators  
| Measure | Data Year | Performance | Average Sector Performance |
| --- | --- | --- | --- |
| Learner Satisfaction | 15/16 | 8.8 | 8.2 |
| Employer Satisfaction | 15/16 | 9.2 | 7.9 |
Courses delivered at South Devon College are used by the European Social Fund to enable them to invest in reducing the differences in prosperity across the EU and enhance economic and social cohesion.