FdSc Animal Science Level 5
This is a wide ranging foundation degree that incorporates contemporary issues in the animal science sector, including animal behaviour, welfare, sustainability and conservation. The course focuses on enhancing your employability and career prospects by developing your academic, vocational and transferable skills.
You will work in our well-equipped laboratories, and may participate in work experience with a land-based employer in order to gain valuable practical experience. You will also work with our extensive collection of over 100 animals, including companion, livestock and exotic species such as meerkats, reptiles, amphibians, pigs and goats.
The teaching team offer an excellent level of support, enabling you to learn from experienced practitioners who can help develop your skills and advise you on career opportunities and working practice.
Your studies will give you the opportunity to select a subject that interests you, enabling you to specialise in a specific area and develop a highly advanced skillset. You will develop your practical, research and communication skills, and upon completion you will be a well-rounded, confident and independent practitioner, capable of succeeding in whichever profession or specialism you choose to progress in.
The full-time and part-time course has one start point in September.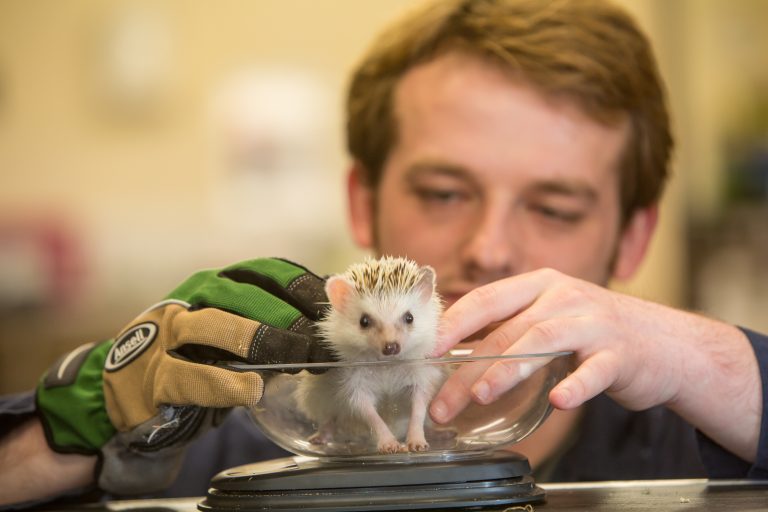 Course Details
What will I learn?


Expand

Close
Year 1 modules:
Anatomy and physiology - 20 credits

Introduction to animal behaviour - 20 credits

Animal handling and husbandry - 20 credits

Animal nutrition - 20 credits

Research development and practice - 20 credits

Foundation bioscience (optional) - 20 credits

Wildlife management and rehabilitation (optional) - 20 credits

Introduction to ecology, behaviour and conservation (optional) - 20 credits
Year 2 modules:
Specialist research project - 20 credits

Applied zoological science - 20 credits

Wild and domestic animal behaviour - 20 credits

Animal behaviour management and analysis - 20 credits

Animal health and welfare - 20 credits

Engaging Audiences in Science (optional) - 20 credits

Marine biology and environmental management (optional) - 20 credits

Sustainability management (optional) - 20 credits

Biodiversity and speciation (optional) - 20 credits
"I've been a veterinary nurse for 17 years and have managed 2 surgeries, working in Paignton and Bristol as well as in Cape Town, South Africa. I love watching learners grow in confidence, and there's no greater pleasure than seeing a student develop into an experienced professional with an exciting future ahead of them."Donna Fowler