18th August 2022
South Devon College A level students are celebrating their exam results today with a 98% overall pass rate.
This year's results day sees the continuation of the College's history of high pass rates with 70% A*- C and around half of the cohort achieving an excellent A* to B result.
The College is celebrating 100% achievement rates across a broad mix of subjects including English literature and language, maths, physics, business and politics.
The College is also celebrating high results across a broad range of technical and professional qualifications.
Matthew Harbour, Vice Principal and Deputy CEO, said;
"Today's results have helped our students to progress along their path to success, with many securing places in top universities both locally and further afield.
This year is the first time since the pandemic that traditional exams have taken place and our students have all worked hard to achieve their results. This has been a long journey for a cohort who studied their first year of A levels during the height of the pandemic. They have shown extraordinary strength and resilience in reaching this point and we wish them well with their next steps in education and life."
18 year old Louise Mason from Paignton, who due to illness missed the first term of college back in 2020 is delighted today with her results. Louise took psychology, biology and sociology A level and has got her grades to go on to university (two A*s).
"I am going to Exeter University to study psychology. I've been through lots of challenges due to my illness and I want to be a child psychologist so I can help children going though similar things."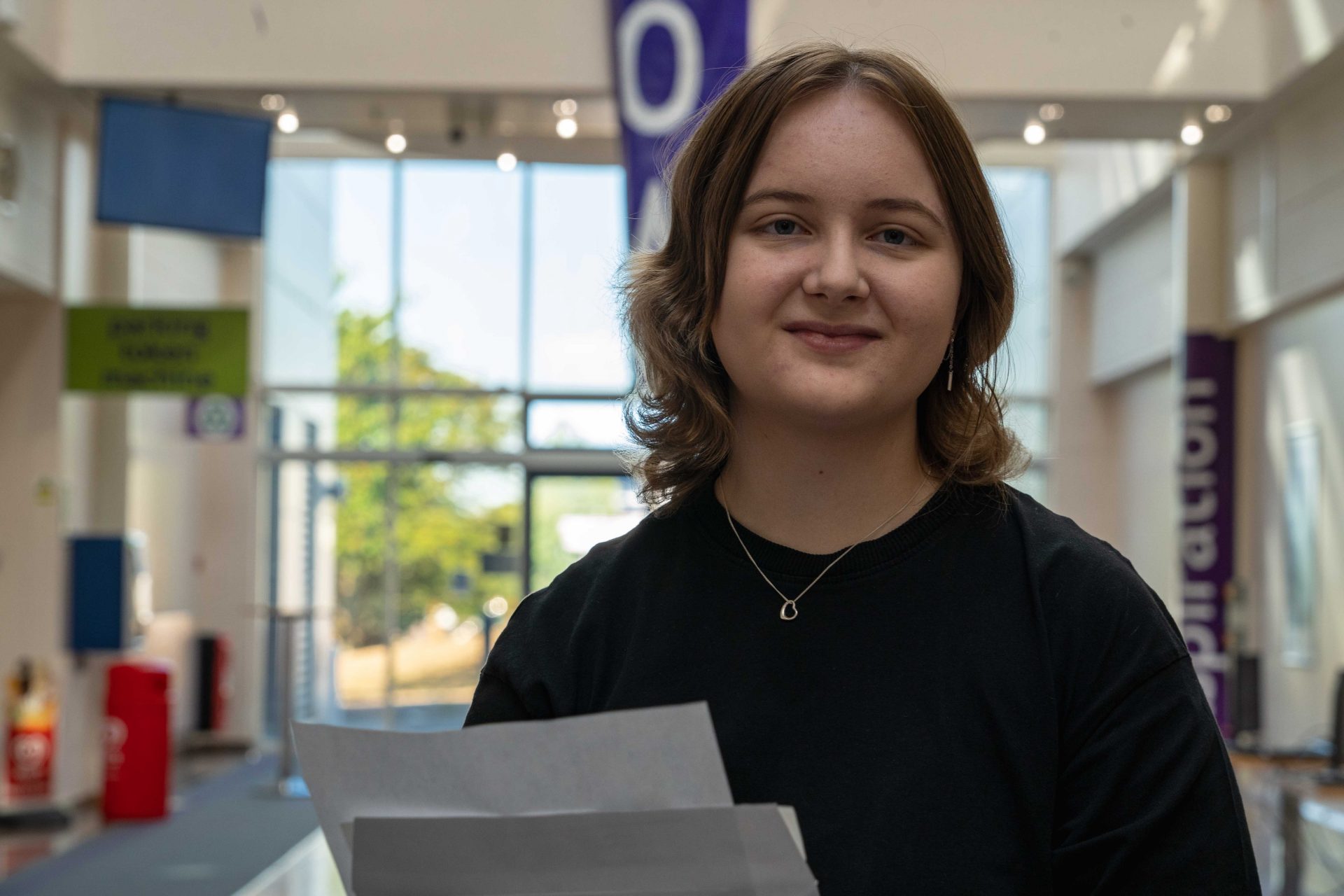 Paige Johnson from Ivybridge is set to go to Bath University after achieving her grades today. 18 year old Paige took physics, chemistry and maths A level, as well as an EPQ (AAAA*) and came to South Devon College from another school after her GCSE's.
"I wanted a change and to meet new people and it's been a really good experience," said Paige, who is going to study a Chemistry degree and wants to be an analytical chemist.
19 year old Aron Briggs from Paignton will be the first person in his immediate family to go to university. Aron, who took A level geography, physics, maths and AS level further maths, (AAB) has a place at Edinburgh University to study Mechanical Engineering.
"I enjoyed maths and thought mechanical engineering would be an exciting and cool career, and mechanical engineers are in high demand. I am particularly interested in the car manufacturing sector."
University Centre South Devon, part of South Devon College, is now receiving high levels of enquiries for Degree and Foundation Degree programmes through its Clearing hotline.
Places in clearing are now open across the country, where unallocated university places are matched to students. University Centre South Devon (UCSD) has a dedicated Clearing page on ucsd.ac.uk and a Clearing advice Line you can call on 08000 21 31 81 so you can find out what's on offer locally. Visit uscd.ac.uk/events for more information.
If you're interested in studying further or higher education, there's still time to apply. The College's expert team are in place to assist with progression to a variety of different pathways that your new qualifications will make possible, simply call 08000 380 123 or email them at [email protected].
Alternatively, drop in and meet with guidance and teaching staff on Thursday 25th August, 10am – 4pm. For more information, visit southdevon.ac.uk/events and start your future today.
More of our students
Jolyon Little
Biology, Psychology, Sociology, EPQ all at A*
"After negative experiences at a past school, I joined South Devon High School and was so impressed by the welcoming environment amongst many other factors that the college was the obvious choice for me.
"The tutors were all incredibly supportive both in regards to university applications and the course itself. The ability to be able to ask questions and have class discussions really helped me grow as a student.
"My plans are to study at University of Oxford and do a PhD in Psychology and pursue research as a career path.
"Don't be afraid to ask questions during lessons, having your own understanding of content is invaluable."
Leyla Brendler
Maths A, Chemistry A, Business A*
From East Germany, Leyla came over to South Devon on a one-year exchange programme but decided to stay on for a second year as she enjoyed the college so much.
Leyla is going to be returning to Germany to study Data Science at Stuttgart University.
James Stocks
Physics A, maths A, psychology B
"South Devon College made me feel very mature, I was treated like an adult and the teachers were on point.
"I'm now off to Loughborough University to study civil engineering and then Sandhurst to become an officer with the Royal engineers."
Abigail Wilson
Sociology A*, History A, Biology C
"I went to High School at the college and loved it so I wanted to continue here for A Levels. I always loved biology and history but chose to study sociology as it seemed interesting. I liked studying here as it was familiar and I had a relationship with the teachers already.
"I've got a place at Cardiff University studying adult nursing, which I intend to use whilst travelling."
Christelle Shuttleworth
Sociology A, Psychology B, Philosophy C
"I liked the idea of studying why we feel certain emotions, issues within society and questions about the existence of the universe. They were very thought provoking subjects. My teachers and the Helpzone team were very supportive and friendly.
"I would like to study for Bachelor of Education."
Faith Mahon
Geography A, English Lit B, Photography A
"The college sounded like a place I could find my independence and have more control over my learning. It turned out to be a better and more supportive learning environment than I ever imagined.
"I had received an unconditional offer from the University of Plymouth where I'll be focusing on physical geography and would love to work in conservation to protect our oceans."
Charlotte Norris
English Literature A, Politics, A* History A*, EPQ A
"The comfortable learning environment as a former homeschooled student was incredibly attractive.
"The greatest aspect of studying at South Devon has been the teachers who have been inspirational and have encouraged me to be the best I can be.
"I'm now off to study Law at Exeter University."