Animal Care Certificate
This course has been designed to provide you with the essential skills necessary to progress in a career working with animals, or alternatively further education.
We share this planet with almost two million different species of animal. For some people, that's just a fact of life. For others, it's something more. Now, more than ever, how we interact with these animals and care for them will shape our world, forever.
We want to take that passion and love for animals of all shapes and sizes, and turn it into a career that truly makes a difference. You won't just be learning in a classroom – you'll be up close and personal with over 150 species of animal in our outstanding facilities.
From pigs, rabbits, and goats to insects, lizards, and chickens (and everything inbetween), you'll become familiar with so many different types of animal during this course. You'll need to be committed and reliable because these animals will grow to trust you and rely on you during the course.You will learn through taught lessons and practical sessions, as you gain valuable experience working within our animal unit.
This course is all about providing you with the essential skills for a career working with animals, and to help you progress to further study. Upon completion you can consider entering employment, or progress onto the Animal Care Level 2 Diploma, which will support your progression and develop the skills you have acquired. We have developed a curriculum that leads from Level 1 all the way through to a top-up degree in Applied Animal Science at University Centre South Devon, so whatever your goals are you can achieve them with us.
Entry requirements: you must have a grade 2 in either English or maths.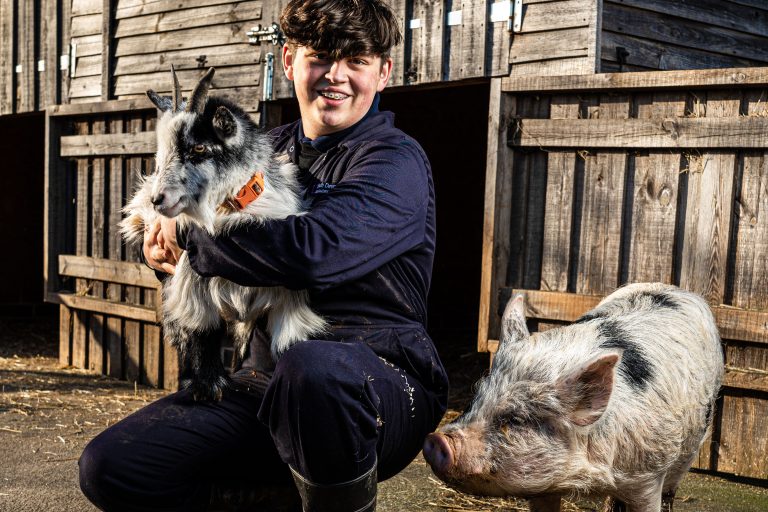 Course Details
What will I learn?


Expand

Close
Safe and Effective Working

Preparing to work in land based industries

Maintaining the health and welfare of animals

Animals in the wild

Assist with feeding and watering of animals

Assist with prep and maintenance of animal accommodation

Assist with handling and restraint of animals
Course Applications
Please choose your preferred study option below (subject to change).
This course costs: £
If the amount shown is more than £0.00 and you are aged 19 and over at the start of the course, you may have options to help fund your studies with us. The funding you can receive depends on your personal circumstances, and could mean you are entitled to fully subsidised or reduced tuition fees.
This course is fully funded for 16-18 year olds (if applicable to the course).
You may also be entitled to support with travel, childcare and equipment.
To find out exactly what you could receive, contact our Helpzone team on 08000 380 123 for a free, impartial appointment, with no commitment necessary.
"I will really miss my college days and from the beginning the tutor, Al, has been so supportive. From someone who has not completed anything academic in over 20 years, this course was a step in the right direction for me. I have learnt so much from the group of people, different organisations, but mostly from Al who has a wealth of HR knowledge. Nothing is ever too much trouble for Al and she will always go out of her way to support and guide you in the right direction". Kelly Gidley – Temporary Staffing Team Manager, Torbay and South Devon NHS Foundation Trust