3rd June 2021
Attacking midfielder Scott Piper has been rewarded for his impressive displays in the Torquay United youth team by becoming the latest of the club's youngsters to receive international recognition.
Following a successful England Colleges National trial in Bristol two months ago, Piper made it through to final stages, with his place in the England Colleges FA squad confirmed this week. Scott will now be looking to make his mark during upcoming matches, ahead of a tournament in July.
His progression is further proof of the successful partnership between Torquay United and the Pro:Direct Academy based at South Devon College.
United manager Gary Johnson included the player in the first team's pre-season friendlies at Plainmoor last September, and was therefore delighted with the news of Piper's call-up, whilst also recognising the achievements of two other members of Chris Todd's side – Theo Cadby and Luis Edmondson – who also attended the National trials.
"Congratulations to Scott on a great achievement to represent England Colleges, and also to the other boys that just missed out," said Johnson.
"Scotty has done very well recently, and deserves his accolade of representing his country. It's nice to see that Toddy's youth programme is bearing fruit."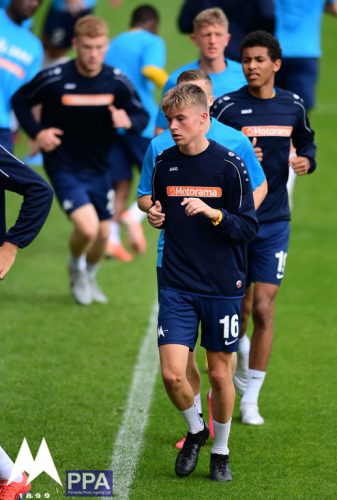 Head of Youth Todd was obviously proud at seeing another of his charges gain recognition on the international stage, thereby matching the achievements of first-year professionals Owen Price and JJ Evans last season.
"He's done fantastically well to get selected, and the College, Torquay United, and myself are all very proud of him," began Todd.
"It's never easy to go to those trials, there's two phases and you have to show up on the day. It's difficult, but he's obviously done really well to be selected, and it's another plus for Torquay's youth, and moving forward.
"He's a great lad, which is always good, and he's worked really hard. Theo and Luis were very unlucky, but they both did very well to get to final trial. It's good to see recognition from football people outside of Torquay."
As for the player himself, he was quick to highlight the opportunities made available to him over the past year.
"With Torquay, it's been a massive achievement for myself," said Scott.
"I play on Saturdays with the Under-18s, which obviously Toddy manages, so it's a good experience with them and all the boys that play -we've got a great team.
"I played in pre-season and I've also had reserve games in the past few months, so it's been a massive experience getting those opportunities to play with them for myself, my family and everyone around me."
Well done, Scott!