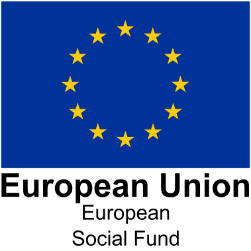 ESF Smart Skills
Funding
Courses are available through the SMART SKILLS programme, funded by the European Social Fund. It aims to upskill Devon-based employees within small or medium-sized enterprises (SMEs); the self-employed and unemployed who are in receipt of employment related benefits (JSA, ESA WRAG, Universal Credit).
If you are employed and applying as an individual, you will need the support of your employer. You will be required to complete appropriate funding paperwork to access the funding and we are required to see sight of identification of right to live and work in the UK. Participants must be aged 16+ and living in Devon.
If you have 10 or more employees within your business who would like to undertake a course, we can work with you on bespoke delivery if the advertised dates/times below are not convenient.
Courses
EDUCATION AND TRAINING AWARD LEVEL 3
Are you already training others, or would like to train others in the workplace? Then the Award in Education and Training is a really great way to introduce yourself to the education and training sector and will cover a broad range of topics that will help you develop as a trainer.
The qualification aims to support you to reflect on your own previous/current levels of experience, practice and skills, and areas for development as well as identify principles of learning, teaching, assessment, and evaluation. You will develop confidence, communication and interpersonal skills and develop an awareness of your professional role and responsibilities.
Although there are no formal entry requirements for this qualification, you should have a genuine interest/qualification in your subject/skill. The course will entail you to complete a subject assessment portfolio and present a 15 minute micro-teach at the end of the course. There will be an opportunity to look at and explore progressing onto the Level 4 Diploma in Education and Training.
When can I study this course?
| Day of the week | Start date | End date | Time |
| --- | --- | --- | --- |
| Thursday | 28/04/2022 | 26/05/2022 | 09:00 to 11:30 |
| Thursday | 09/06/2022 | 07/07/2022 | 16:00 to 18:30 |
The course is delivered over 2 weeks through live online taught sessions.
For more information, please contact Katy Joy by email at katyjoy@southdevon.ac.uk.
CMI PROJECT MANAGEMENT AWARD LEVEL 3
This qualification is designed to meet the needs of managers responsible for projects, who wish to extend their skills and knowledge to embrace further project management disciplines. It is expected that learners will already be working in a Project Management environment, although the qualification is also open to learners wishing to build on their general management skills.
The course contains one unit which you will be required to complete – 'Introduction to Project Management'. This unit is about the nature and context of projects, individual roles and responsibilities within projects, and a project management process. The assessment method will be a written assignment.
When can I study this course?
The course is delivered over 6 weeks, with 3 taught sessions delivered online on Microsoft Teams.
| Day of the week | Start date | End date | Time |
| --- | --- | --- | --- |
| Thursday | 27/01/2022 | 17/03/2022 | 09:30 to 11:30 |
For more information, please contact Sue Libby by email at slibby@southdevon.ac.uk.
CMI COACHING AND MENTORING CERTIFICATE LEVEL 3
This course provides an introduction to coaching and mentoring and explores the use of different models used by a coach or mentor. Whether you're a team leader, supervisor, manager, volunteer or simply have an interest in supporting others, the Coaching and Mentoring Certificate is perfect for you.
You will use and compare the different coaching and mentoring models, considering the practical and theoretical aspects of each in a range of contexts. You will also discuss the importance of giving feedback. You will be assessed through assignments in which you will be able to explain how you apply coaching and mentoring to your role.
When can I study this course?
| Day of the week | Start date | End date | Time |
| --- | --- | --- | --- |
| Wednesday | 16/03/2022 | 06/07/2022 | 14:00 to 16:00 |
The course is delivered over 12 weeks, with 4 taught sessions and remainder of the course being online.
For more information, please contact Sue Libby by email at slibby@southdevon.ac.uk.
We also have a Smart Skills funded suite of Composites courses.
Enquiries
For more information, please contact our Helpzone team on 08000 380 123 or email pgpt@southdevon.ac.uk.